Bruce, an owner-operator with a low-time 1980 Cessna 340, spent several months looking for someone to modernize and refresh the interior and exterior of his airplane. He had completed a major panel upgrade and was ready to make the rest of the aircraft similarly impressive. This makeover would encompass stripping the airplane and repainting it as well as completely refurbishing the interior.
Having seen some of Wipaire's Caravan interiors, Bruce elected to contact Wipaire as he was evaluating options for services providers. After several interactions, Bruce was understandably anxious about the significant work scope and elected to visit Wipaire in person last November. "At the time, I was looking at several different shops. Everyone else was trying to sell me a cheap job, and I wanted a quality job." To discuss the interior project, he met with Will Perez, our interiors manager.
"Will did a phenomenal job of diagnosing what I wanted," Bruce commented. "He and Jim (Halfen, interiors shop supervisor) were able to transform the sketchy ideas I provided into a spectacular project. Within about an hour, we had settled on the concept that was used in the airplane."
Bruce's first concern was durability and how the interior would show wear. With bases in Minnesota, Nebraska, and Colorado, he frequently flies with his dogs and cat, and didn't want a high-maintenance interior that would require constant upkeep. He knew he wanted darker colors that wouldn't show wear easily, but didn't have specific selections made. "Will showed me some darker colors of leather, and came up with the idea for the alligator-embossed leather for an accent. He and Jim also suggested a flecked carpet that doesn't show dirt. They were alerting me to things that I wouldn't have noticed on my own, which was fantastic."
Will added, "This project was just fun. It was outside the standard material selections, and we really enjoyed working with Bruce to develop something unique. He identified with creating something that no one else had, and that's always a lot of fun."
While the aircraft was a well-kept, low-time airplane, several design features were beginning to reveal the airplane's age. The seat upholstery style was outdated, so Will worked with Bruce to define what look and functionality was desired. "We made the seats close to two inches wider, while changing the headrest and seat back design. The result is a more streamlined and modern appearance that also provides more room. Since Bruce routinely travels with his family in this airplane, comfort and function are key considerations," Will stated.
The seats feature a vintage-look leather that has rugged yet modern "lived in" look that doesn't show wear easily. The seat back incorporates the alligator-embossed leather, which is also used on the sidewalls to maintain continuity throughout the interior. The headliner was refreshed with a neutral color that offsets the darker material choices and creates a refined atmosphere with plenty of light.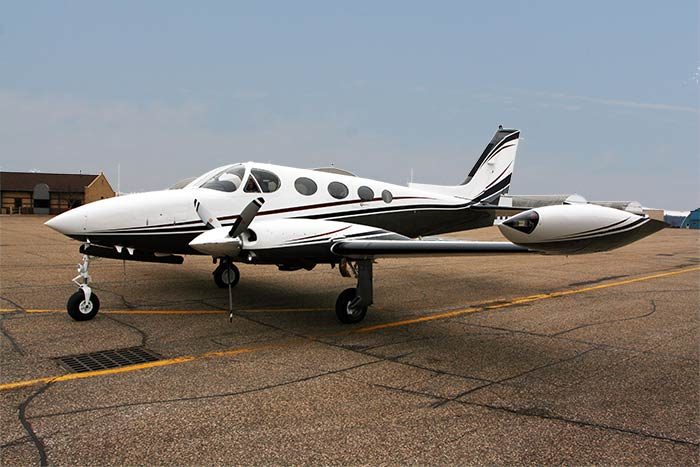 While Will's team was updating the seats with new foam and covers, Wipaire's paint team was working on a masterpiece of their own. "The airplane had a typical RAM paint scheme," Bruce noted. "I wanted to get away from the dated horizontal lines and color. I met with Bill Jones (paint shop supervisor) and he put me in contact with Craig Barnett of Scheme Designers. Craig asked me what I didn't like and had me send him some examples of airplanes that I did like during the development process." Scheme Designers zeroed in on a design that Bruce liked and then Bill helped translate the scheme into actual paint color selections. "Bill sat down with me and went through paint chips. We would pick a few options and then go outside to see what they would actually look like on the airplane when it was on the ramp. I provided about 0.5% of the information, and Craig and Bill provided the other 99.5%."
As with all paint jobs, proper stripping of old paint and prepping for the new finish makes all the difference in the quality of the end product. This means taking the airplane to bare metal and scrutinizing any imperfections or blemishes that may be discovered. "A good paint job on an airplane can last 15-20 years. If you don't take the time to address any imperfections on the airframe, they're going to be hidden under paint for years and may continue to deteriorate underneath otherwise nice-looking paint," noted Bill.
"Bill warned me that we'd find some things when we peeled the airplane down. Even though it was well-maintained and didn't have many hours, the airplane still had areas to be repaired," Bruce remembered. "When Bill and his team found something, the communications were absolutely second to none. The blemishes were circled in color and included the description and price to fix them. It was very detailed and professional." With Bruce's exacting eye for quality, repairs to the airframe were made by Wipaire's maintenance department, body work was performed by the paint team, and the avionics department addressed several antennae in need of repair. Bruce added, "I know the difference between concealing issues vs. the long-term benefit of addressing them. This airplane is new in every respect, and well worth the investment in time and money."
Of the final product, Bruce says, "I couldn't be more pleased with it. It's a real head-turner on the ramp." Looking at the pictures of interior and exterior, we think you'll agree!