Seaplane airlines are a rare and unique breed, but this Wipline float operator is growing to meet demand not even the founders could have imagined.
"When I was in college, I read Jimmy Buffet's book Where is Joe Merchant?, which features a US Navy pilot-turned-seaplane pilot. I was 19 at the time, and I decided that's what I was going to do," recalls Rob Ceravolo, founder and CEO of Tropic Ocean Airways. Rob went on to serve as a naval aviator, flying the F-14 Tomcat, F-18E Super Hornet, and F-5N Tiger II. He attended the Navy's TOPGUN Fighter Weapons School Adversary course and returned to his squadron as an air combat instructor. "My original plan was to retire from the Navy and start a seaplane airline," says Rob. "But in the fall of 2009 I read Richard Branson's Screw It, Let's Do It and decided that, well, screw it, I'm going to do it now. I then went to get my seaplane rating at Jack Brown's and I met Nick, my instructor, and now our vice president. The day of my checkride I attended the National Business Aviation Association convention in Orlando and met the team at Wipaire for the first time to talk about this dream. I called Nick two months after my seaplane rating to start Tropic."
Rob continues, "Instead of retiring from the Navy, I became a reservist after 10 years of experience. It took Nick and I a year and a half to get our Part 135 certificate. We bought a Cessna 206 on Wipline 3450 amphibs as our first airplane…the same plane featured in the movie Fool's Gold. Nick moved to Key West for Tropic and our first office was in his living room. When it was time to receive our certificate, he met with the FAA right there—in his living room. I was in Tampa when Nick called to tell me the good news. At the time, I was stationed at CENTCOM at MacDill AFB, commuting on a bicycle because I had sold everything to start Tropic—my house, my car, and my motorcycle. Now we have seven airplanes. In fact, on March 11th we just celebrated what we like to call 'Fly Tropic Day,' our four-year anniversary of receiving our 135 certificate in Nick's living room."
From the initial concept, Tropic Ocean Airways has grown to a fleet which includes the original Cessna 206 on Wipline 3450 amphibious floats, two Cessna Caravans on Wipline 8000 amphibious floats, two new Cessna Grand Caravan EXs on Wipline 8750 amphibious floats, and one new Cessna Grand Caravan EX on wheels. Tropic started with only one domestic route (Miami to Key West) and added their first international route in June 2011 from Fort Lauderdale to Bimini, where they made history as the first international commercial seaplane to land in Bimini in over five years. They now typically service 20 locations throughout the Bahamas and Florida, though a Tropic traveler's destinations are hardly limited. In fact, if you're not headed to an island destination, they even offer direct-to-yacht provision delivery. The airline operates as far north as the northeast Abacos down to the southern Exumas during their busy season and repositions an aircraft at the East River seaplane base in New York in the off season to provide service to East Hampton.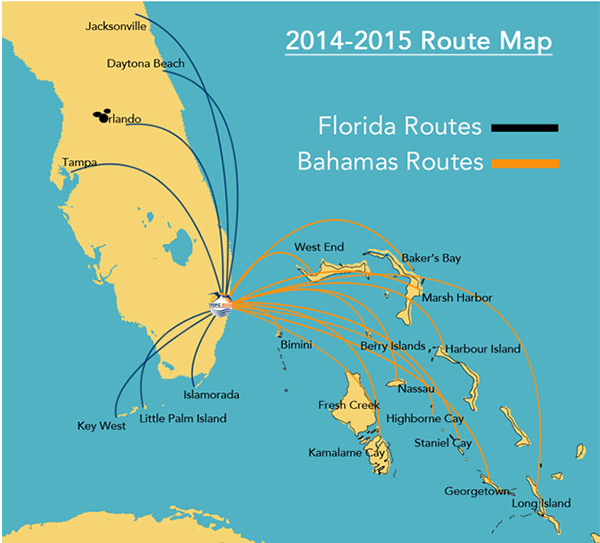 Today, Tropic Ocean Airways is based in Fort Lauderdale, Florida. The location provides a perfect jumping-off point for the airline, as major airline destinations such as Jacksonville, Daytona Beach, Tampa, and Orlando are all within a short flight. Tropic operates the wheeled Grand Caravan EX for these flights to save travelers the hassle of renting a car and driving. From Fort Lauderdale, travelers can hop to popular Florida spots such as Key West and Little Palm Island as well as international destinations in the Bahamas. Tropic's Bahamian routes are extensive and range from as close as Bimini to as far as Long Island.
"The versatility afforded by Wipline amphibious floats is key to our business," Rob notes. "Our whole mission is to provide a personalized travel experience that's free of the hassle and inconvenience of modern air travel. Amphibious floats allow us to meet our guests at the end of their airline travel and whisk them away directly to their vacation destination."
Wipaire's worldwide reputation and 55 years of experience building a wide range of floats reassured Rob that Tropic's pilots and customers would be in good hands. "When you think aircraft floats, there's really only one name that comes to mind, and that's Wipaire. Tropic Ocean Airways is proud to exclusively operate Wipline floats," Rob states. "We've added two brand-new Cessna Grand Caravan EXs in the last few months on Wipline 8750 floats. We also operate two Caravans on Wipline 8000 floats." Of the differences between the two float designs, Rob says, "The 8750 floats have increased our completion rates because they handle rough water so well. We're able to safely operate in conditions we wouldn't be comfortable in with the 8000s."
Tropic Ocean Airways was also one of the first operators to install Wipaire's exhaust deflector for the Caravan series. Only one Grand Caravan EX was equipped with the deflector at first to test the effectiveness of the modification, and the difference in aircraft cleaning time has been described as "night and day." The deflector keeps the aircraft remarkably cleaner than its fleetmates, improving the appearance of the aircraft and drastically reducing the man-hours to clean it each night. The difference is so pronounced that Tropic is equipping their entire fleet of Caravans with the exhaust deflector.
In addition, Rob notes that "The deflector has actually opened up our wind capabilities because it allows us to approach the dock from either side." After receiving their aircraft on floats, Tropic wastes no time engaging in a detailed and rigorous maintenance program to ensure the aircraft and floats remain in top condition. "Safety is a top priority, and safety begins with top-notch maintenance. I learned during my time in the Navy that properly-maintained machines are crucial to being able to complete the mission. At Tropic, we recognize this and work to live up to our customers' expectations by not only meeting FAA standards, but exceeding them," Rob commented. "To combat the saltwater impact on the aircraft, we wash the airframe and floats with fresh water every night. We follow that with a salt-removing solution and then another fresh water rinse. This ensures the airframe and components like landing gear enjoy a long and trouble-free life."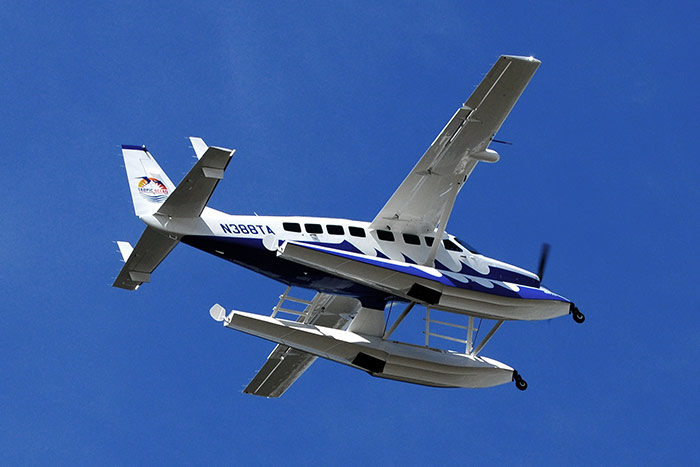 A desire to provide first-class service to customers drives Tropic's philosophies and operations. The airline operates out of the Sheltair private terminal at the Fort Lauderdale International Airport to provide a comfortable environment for their guests. Instead of security checkpoints and lines, Tropic travelers are greeted with a welcoming attitude and a helpful smile. The team at Tropic works with guests to develop a seamless travel experience, including baggage storage if needed. Private charters are also available and can range from a short scenic tour to a day-long adventure.
"If you fly with us, you're going to have a good time," Rob says with a smile. "The experience of the flight is at the core of everything we do. If you're not having fun, we'll do everything we can to turn that around."
As you might imagine, seaplane flying in a tropical paradise for a company focused on delivering happy customers is a dream job. "We're very selective about our pilots," adds Rob. "Working for Tropic is so much more than flying an airplane from Point A to Point B. Our pilots are part of a team that shares a singular goal—to give our guests a personalized and unique experience that they'll never forget. Everyone from our sales team to our pilots to our maintenance team is a part of that mission. Because of this, a customer service attitude is hugely important." In addition to a helpful attitude, pilots must be safety-centric. "We crew our flights with two pilots for added safety," Rob mentions. "Our standard operating procedures are based on those of a Navy fighter squadron and our safety department is run by a U.S. Naval Aviator with a Naval Safety School background and years of aircraft carrier experience. Although not required by the FAA for Part 135 operations, we are building a Safety Management System from the ground up."
Tropic Ocean Airways' Wipline floats open up limitless destinations, including private homes, yachts, and exclusive resorts. The convenience that floats offer can't be matched. A Tropic customer can enjoy a short check-in, relaxing flight (yes, there's leg room), and arrive right at their destination. The Tropic formula has proven to be a winning one, with rapid growth since receiving their operating certificate in 2011.
"Seaplanes are unique, they're fun, they're romantic, and our Wipline-equipped fleet has grown with us as we expand to meet customer demand," Rob states. "Speaking of romance, you might have noticed a Tropic Ocean Airways Caravan on Wipline 8000 floats in the most recent season of The Bachelor."
As for future plans, Rob says there are exciting things on the horizon. "We're always working on new destinations, so stay tuned for announcements from us. Our flights now include scheduled destination flights*, cargo flights, and even medical comfort evacuations. Our newest destination is Havana, Cuba, which we launched just a few weeks ago. When we landed, the local residents came up to the airplane and told us they had never seen a seaplane before, except in the movies. It's definitely an exciting new opportunity, and our Havana partners are able to facilitate visas and permits for those looking to experience Cuba."
In sum, Rob says, "We really appreciate our relationship with Wipaire. We couldn't have done it without working together. Wipline floats have taken us everywhere we've ever dreamed of and then some."