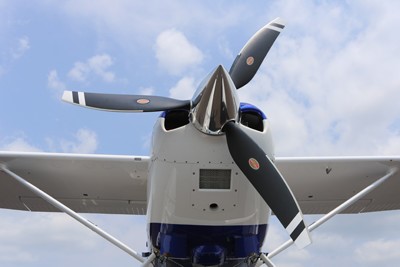 If you fly a Wipline 3000-equipped Cessna 182 with the AirPlains IO-550 engine conversion, consider upgrading to the new Hartzell Trailblazer carbon fiber structural composite propeller.
This propeller reduces take off noise, improves take-off performance and removes approximately 20 lbs (9 kg) off the nose when compared to the aluminum prop. The Trailblazer showed a 30% decrease in water take-off at full gross, 17% decrease on land and a 10% increase in rate of climb when compared to a traditional metal Hartzell propeller! This propeller is truly a powerhouse that will help you get the best performance possible out of your upgraded 182 on Wipline 3000 floats.
The new carbon fiber composite Hartzell Trailblazer series 82″ propeller is standard equipment equipment with our Boss 182 Lycoming IO-580 engine conversion, both landplane and seaplane configurations. We are excited to now offer this outstanding propeller for IO-550 floatplanes as well!