Wipaire's exclusive, safety-enhancing Laser Gear Advisory is now included at no additional cost on new Wipline float purchases,
and is available for retrofit on Wipline-equipped aircraft.
The safety of Wipline floats has always been a top priority. Wipaire's amphibious gear advisory system, well-known for its "Gear is up for water landing" and "Gear is down for runway landing" annunciations, has long been standard equipment on all amphibious Wipline floats. The laser gear advisory system, in contrast, remains quiet when the landing gear and detected surface are in agreement. The laser becomes active at approximately 400 feet above ground level and compares the gear position with the detected landing surface. In the event of a mismatch, the system reminds the pilot to "Check gear" around 50 feet above the surface, allowing the operator to initiate a go-around to address the gear position. In the event of a laser malfunction, the system controller will revert to the standard gear advisory voice annunciations.
| | |
| --- | --- |
|   | The Laser Gear Advisory is now included with all new amphibious float sales and is available for purchase separately. The laser system may be installed in the field or at Wipaire in South St. Paul, Minnesota. Contact your sales representative for installation details for your aircraft. If you have more questions or would like to purchase the new laser gear advisory system for an existing float installation please don't hesitate to contact us! |
How the Laser Gear Advisory Works
At about 400 feet above ground level while preparing for landing the Laser Gear Advisory detects if you are over a water or land surface. After detecting the surface a light illuminates on the gear advisory display indicating either land or water surface.
At about 50 feet above ground level and below a certain speed if your gear is in the correct position for the landing surface there will be no further alerts and the surface landing light will remain lit to help advise your landing.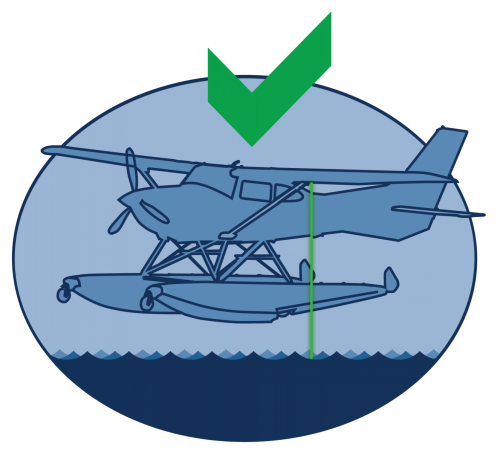 If the gear position is incorrect for the landing surface (or an asymmetrical gear position is detected) then a alert will sound. An audio alert of "check gear" will be repeated indicating that a go-around should be initiated and the gear position checked and adjusted. This alert may also be triggered if a water surface is very shallow, has large or dense debris or is extremely choppy. These may all be good reasons to reconsider your landing location.